Second Wind
Specialization exclusively on EB-5
EB-5 is our main product, and our expertise helps our clients navigate the process from start to successful end.
Our expertise reduces your risk
The only member in Europe of the United States Regional Centers Association (IIUSA) and we have the statistics of the Regional Centers and information about the experience of lawyers.
Payment after receiving a Green Card
The biggest payment we receive from you is only after you receive your Permanent Green Card and a refund of the invested capital.
Advantages EB-5
Education
Children may receive reduced tuition fees for studying in the US.
Family
Green Cards for a spouse and children under 21.
Employment / Running a business
No restrictions on locations for residence and employment or business in the US.
Citizenship USA
Possibility to obtain a US passport for the entire family.
Minimum requirements
Education, work experience, age, language skills do not matter.
Process overview
Investment
1 – 6 months
Choosing a project, a lawyer, and preparing applications
Petition I-526
1 – 4 years
Business plan and personal documents of investor
Conditional Green Card
2 years
Residing in the US and obtaining a tax residence
Petition I-829
1 – 4 years
Proof of created jobs
Permanent Green Card
10 years
Green Card can be extended or citizenship can be obtained afterward
Regional Centers' projects
2022 Annual Review EB-5 Program
The Review includes statistics on the number of EB-5 visas issued in the last decade, up to and including 2022; countries that have been leaders in issuing EB-5 visas; the number of petition I-526 applications filed with USCIS; and the number of Regional Center registrations.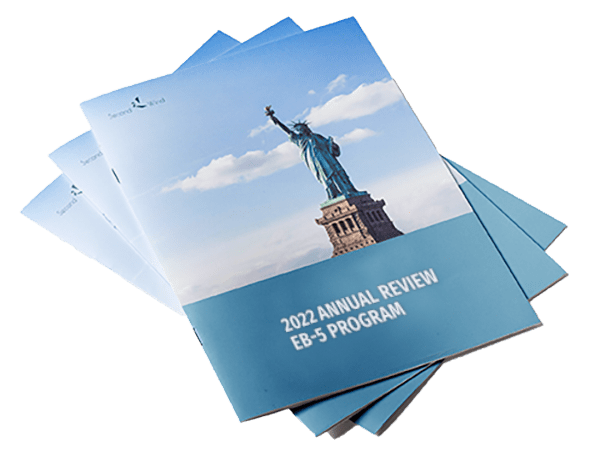 FAQ
Do I have to live in the US in the same state/city where my EB-5 project is located?
No, you can live anywhere in the US with no attachment to your EB-5 project.
Can a student be an EB-5 investor?
Yes, a student can be a main applicant in the EB-5 process. The main requirement is that he/she can prove a legal source of funds. So, in the case of parents gifting funds for the EB-5 process to their children, they have to show where the parents got these funds from.
What is the difference between an investment of $800 000 and $1 050 000?
The amount does depend on the location of the business or projects. If the project is located in a TEA (Targeted Employment Area), a lower amount may apply.
What documents are needed to prove a legal source of funds?
Salary, dividends, loans, gifts, income, asset sales, inheritances, investments, or other sources may be used to fund an EB-5 investment. The EB-5 investor must show that the money came from legal sources and provide tax returns and bank statements so that the money can be traced back to its original source.
Will I receive my investment back?
By law, the EB-5 Program does not offer a money-back guarantee. Depending on how you choose to participate in the program, getting your money back may depend on how well your own business does or, if you invest through a Regional Center, how well the project does.
There are now a number of Regional Centers that can provide statistics on the recovery of funds from their projects. On average, you can expect a refund on your invested capital within 5 – 7 years.
Where can I find official information about the EB-5 program?
Is the EB-5 program right for you?
What are the Program's requirements?
What are the immigration & investment process steps?
What is an EB-5 project and how to choose one?
What are the risk factors, and how to mitigate them?
What are the next steps if I am interested in moving forward?
Get a Free 30-Minute Consultation with Second Wind, the only member of IIUSA in Europe – an association of EB-5 experts based in the USA
Set up a consultation